If you are an Android lover then you must have heard the term Magisk App. This is a completely new tool introduced for customizing android phones without even changing or modifying the system partition. That is the reason why it is known as the "systemless" rooting method.
You can download the latest version of the Magisk App from here and follow the instructions on how to install Magisk and root any android. Whenever we want to root our android phone the first tool that comes to our mind is SuperSU, this tool is widely used for rooting and thanks to the developers who developed this awesome tool.
But rooting android phones using SuperSU has many disadvantages like it modifies the system partition and boot partition. Now, these changes lead to the unfunctional of many apps such as Banking Apps, Wallet Apps, and several security apps. This change by SuperSU is detected by Google SafetyNet which is responsible for verifying android security.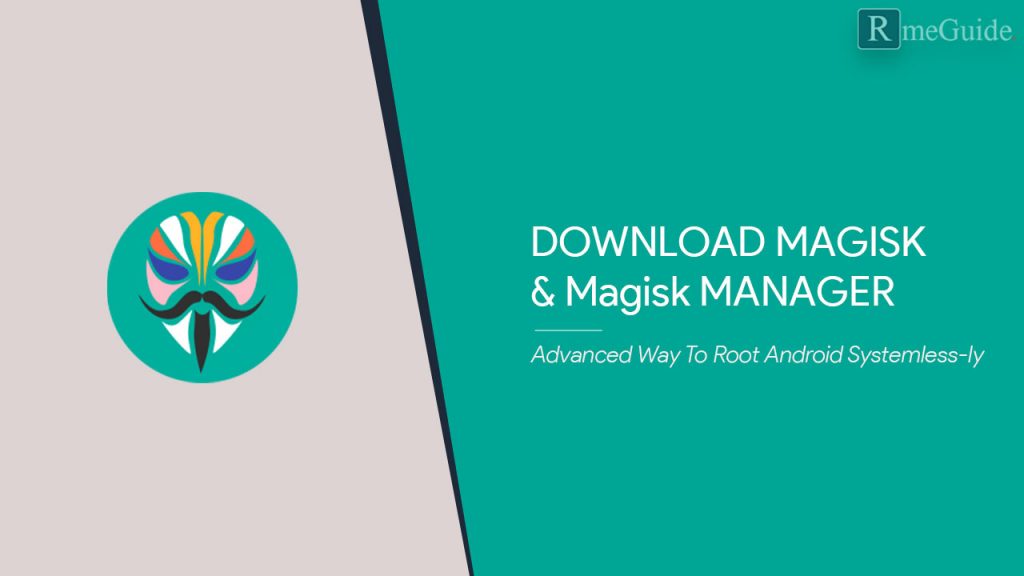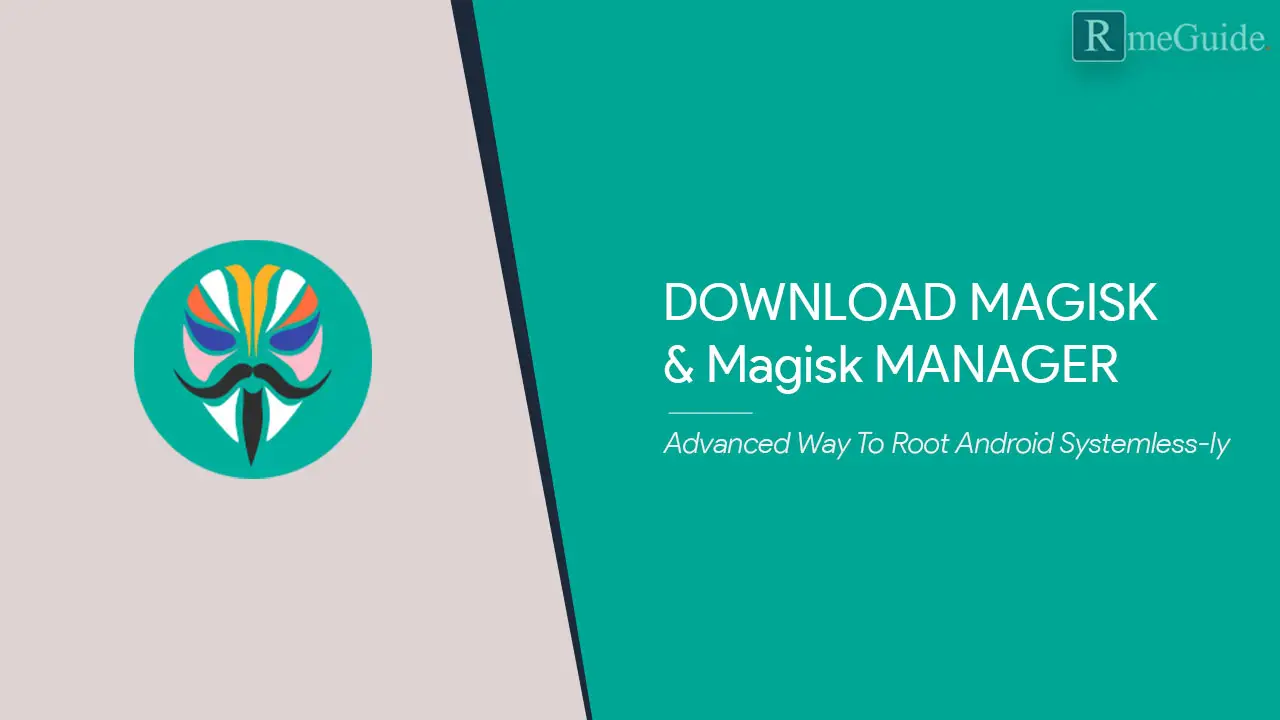 Now the best thing about using Magisk is that it works systemless-ly which means whatever modification is done is stored safely in the boot partition without modifying the real system files. This is the reason why this tool has become so popular over the years.
This tool has changed the complete rooting scenario. You can not only be able to root android but it has lots of modules that help in customizing android without worrying about android security. Since the changes are undetected by Google SafetyNet, you will be able to use Banking applications and receive OTA updates.
What is Rooting Android?
Rooting an android is the process of gaining superuser access on android. After rooting an android device we can get full control over android subsystems like boot partition, these files are generally inaccessible on non-rooted devices. If you want to change those files then you need to have root access.
Once you root your device you can do anything with your Android device. Like you can change stock recovery with TWRP Recovery or any custom recovery. You can install Custom ROMs, Flash files, Magisk Modules, Xposed framework, and much more. There are lots of methods available to root android. But today the method that we are showing is very effective and safe.
What is Magisk?
If you are new to android rooting then your phone is in safe hands. But for those who are pros in rooting android phones must be knowing how challenging is to receive OTA updates and use banking applications on rooted devices.
Magisk is an advanced way of Rooting Android phones that is too systemless-ly, which means your system files will remain untouched. In this method, all the modifications are stored in the boot partition instead of altering the real system files. This is the most important feature of this tool.
Magisk is developed by the well know XDA Developer topjohnwu in 2016. The developer has done tremendous work for the rooting community. Magisk is released in the year 2016 with version 5.8.0 and today the latest version is 20.4.
You can clearly see how the tool is constantly getting new features over the years. Magisk is a very trusted tool for customizing Android devices like a pro. The tool has gained a lot of great features that are very useful for customizing android safely and easily.
Magisk has been developed to pass Google's safety tests (Safety net) in order to use Banking apps. Unlike other rooting tools that don't support banking apps, with Magisk you can easily run financial applications without any issues.
What is Magisk App?
Magisk is a flashable zip file that can install via any custom recovery on the other hand Magisk App is an app that helps manage Magisk on your Android phone. You will see a lot of features to play around with.
This app is similar to the Xposed Framework which contains lots of customization modules. Magisk App includes free modules like ad-blockers, emoji replacements, CameraAPI2 enabler, and much more. Using Magisk App you can grant or allow permissions or any android applications.
This app contains lots of free Magisk Modules that can be installed using the Magisk App app. And not only that you can Unroot your device directly from this app. So, both Magisk Zip and Magisk App app is very essential for rooted android smartphones.
Why is Magisk so Important?
The reason why most people use Magisk over other methods is Google's SafetyNet. Google SafetyNet is a security API service that protects your apps from harmful apps. It detects when the system has tampered with and blocks several apps from working correctly. Amazon Pay, Google Pay, Netflix, Financial Apps, and Pokemon GO are a few examples.
If you have rooted your phone using SuperSU then you must have noticed that it only grants or denies root permissions for particular apps, and triggers SafetyNet to block apps.
On the other hand, Magisk can hide the root of the app entirely. By hiding the root from an app, SafetyNet is not able to detect any issues and you can run Banking Apps or Netflix easily. Also, you will receive OTA updates directly from your phone manufacturer.
Download Magisk App Latest Version 25.2 For Android 2022
You can download the latest version of the Magisk App from the below download link.
| | |
| --- | --- |
| File Name | Magisk App |
| Version | 25.2 |
| App Size | 10.8 MB |
| Android Required | 5.0+ |
| Total Downloads | 50,000,000+ |
| Last Updated | 1 day ago |
| Developer | Topjohnwu |
Features Of Magisk
Magisk is popularly known as the systemless "systemless" root method because it does not change or modify the system partition and boot partition. It stores all the modifications in the boot partition without changing real system files.
As I already said Magisk is a very safe tool for customizing your android device. There are many other methods available like KingRoot, SuperSU, and iRoot. But these tools are not effective enough for rooting.
It is because they install bloatware and spyware on our phones. So, Magisk is the best and safest option to root android.
Let me explain to you all the features of Magisk in detail.
Free & Open-Source
Magisk is open-source software that is free to download. Anyone can use this tool to root the android phone for free. Also, if you are a developer then you can too contribute to the development of Magisk.
 Magic Mount
This feature is the main highlight of this tool. Magisk is the only tool that can "systemless" rooting environment. This feature modifies the system without actually modifying it. The original system files remain entirely intact.
MagiskSU
MagiskSU is similar to what you see in the SuperSU. You can have the option to Allow or Deny the permission of any application that required root access. This basically controls all the permissions of Magiskon on your phone.
Magisk App
Magisk App is an application that helps you manage Magisk on your Android phone. Using this app you can install updates, add modules, and delete installed modules on your device.
Also, Magisk App is very much useful when you need to run Banking Apps, Netflix, Pokemon Go, etc. This app basically hides the root and bypasses Google's SafetyNet check.
Magisk Hide
There are many apps that verify whether the system is tampered with or not and furthermore block the apps. So, if you want to bypass this verification you can use this feature. Magisk Hide allows us to hide root from android.
Modules Repository
Magisk App app comes with lots of useful modules that can be installed from this app. Here are a few modules like ad-blockers, emoji replacements, CameraAPI2 enabler, and many more. There are lots of Modules available in the Magisk Repository using which you can enhance your Android user experience.
OTA Updates
If you are a part of the rooting community then you must be knowing how tough it is to keep rooting and unrooting the device in order to receive and install OTA updates. But using Magisk you can easily enjoy OTA updates without any difficulty.
Install Systemless Xposed
You can install lots of modules to enhance the functionality of your device. There are many tweaks that you can do using Magisk Modules, like improving the battery life, installing emojis, enabling Camera 2 API in order to install Google camera, and more.
How to Install Magisk Latest Version 25.2 on Android [Non-Rooted Phones]
Note: For installing Magisk Zip on your phone, you need to have TWRP Recovery installed on your phone.
Download the latest Magisk installer zip from below.
Now Reboot your phone into recovery by pressing the power button and volume keys together.
Once you boot into recovery mode, select the Install button.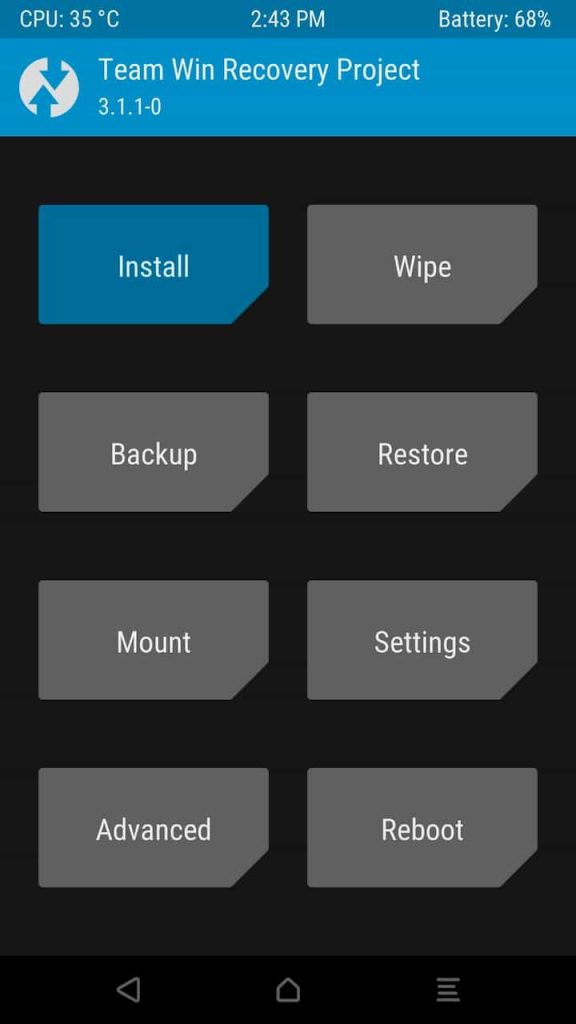 Locate the folder where you download the Magisk zip file.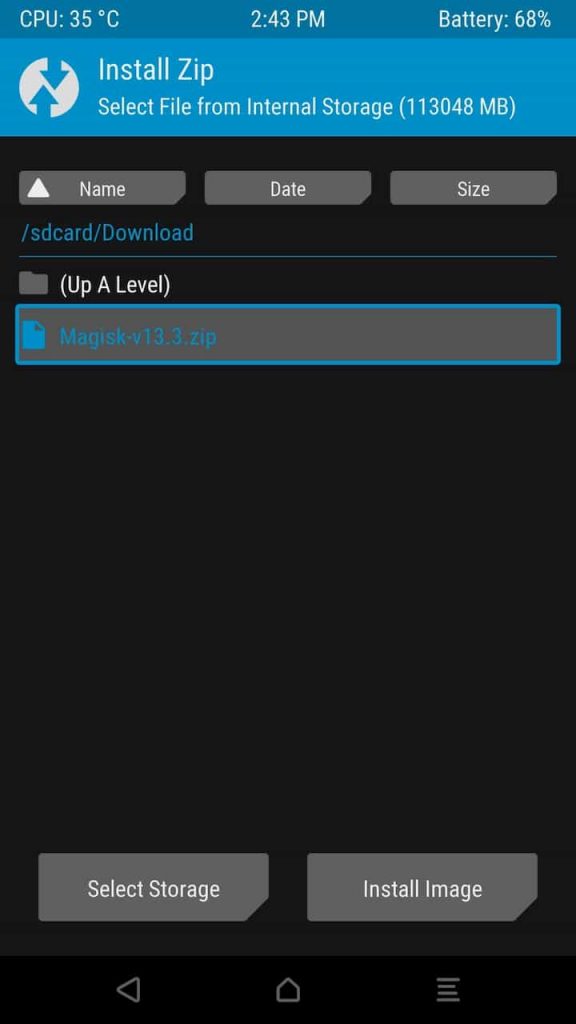 Select the zip file.
Swipe the slider to install Magisk.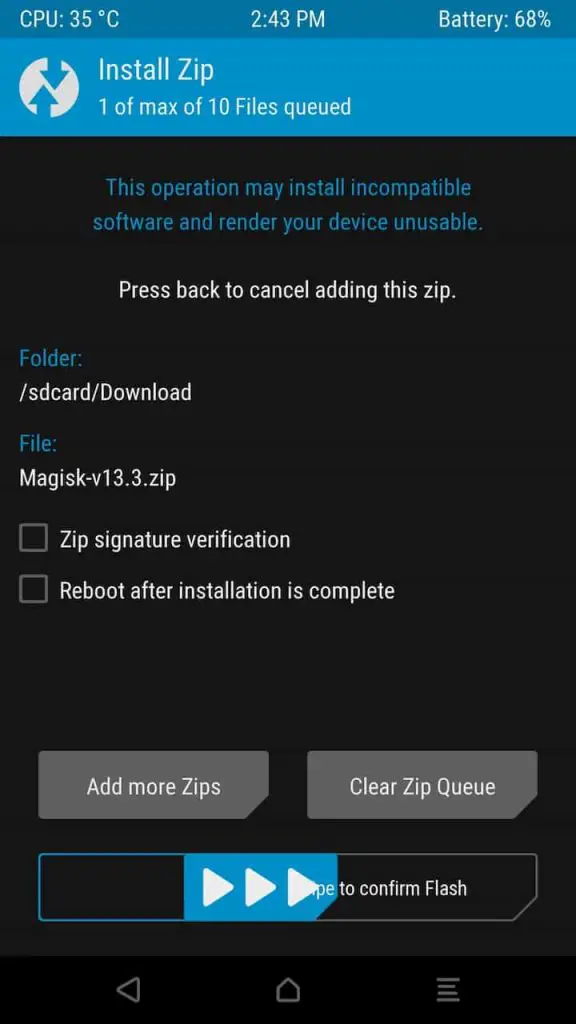 Finally Tap Reboot System.
That's it, you have successfully installed Magisk on your Android device.
You can install the Magisk App apk to enjoy the systemless root on your android device.
How to Verify if your Phone has a Systemless Root?
Download and Install Magisk App from below.
Open the app and check if you see all options with green checkmarks.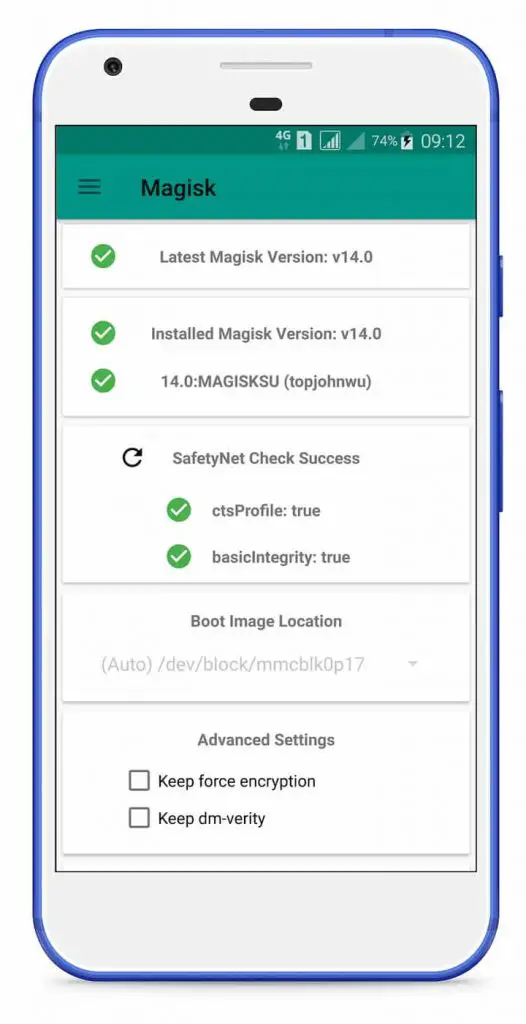 That's it you have successfully obtained root on your android phone.
How to Completely Uninstall Magisk and Unroot your Android Device?
Open the "Magisk App" app on your Android device.
Tap on the "Uninstall" option from the app main screen.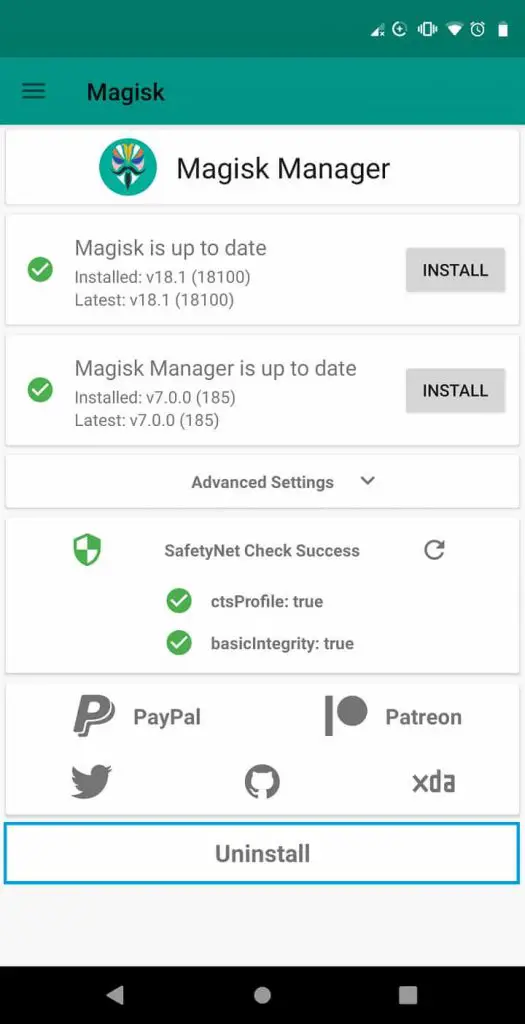 Select "COMPLETE UNINSTALL" to uninstall Magisk.
Once the process finishes, Reboot your android device.
After your phone boots up, you can now safely Uninstall the Magisk App app without any issue.
Conclusion
Magisk App is no doubt a great tool for taking your Android experience to the next level. This new method is the safest way to root your android without modifying the real system files. Magisk gives a systemless root environment that helps us to run apps like Android Pay, Google Pay, etc.
I hope you find this article useful and that you have learned everything about Magisk. If you have any questions or doubts related to this guide then make sure to leave a comment below. We will try to answer you as soon as possible.
Happy Rooting!