How To Root Any Android Phone?
If you are looking for a guide on How To Root Any Android Phone? then you are at the right place. Today in this article you will learn the process to Root Any Android Phone you might have. You will also learn the different ways to Root an Android phone.
Which is the best method to root your phone and also to know if it's possible to root your phone or not? There are many root methods out there like:
Various Root Methods
| | |
| --- | --- |
| Magisk Root | SuperSU |
| CF-Auto-Root | Framaroot |
| Towelroot | KingRoot |
Older Android Version Below KitKat 4.4

If you are running an older Android Version then you may have luck with root exploit apps like CF-Auto-Root, Framaroot, Towelroot, KingRoot, etc.,
You may check their official page for compatibility and download any one apps to root your phone these methods are straight forward. You don't need to Unlock Bootloader and such to root your phone.
Newer Android Version Above Marshmallo 6.0+

If you are running a newer version of Android that is android lollipop and up that you will most probably need to root your phone using Magisk Root Or SuperSU.
Although we don't recommend SuperSU anymore since SuperSU is been discontinued. So our main focus for this tutorial is going to be Magisk Root and that's the only method to root most of the latest devices right now.
Also Read: Install ADB And Fastboot On Windows
This is a universal guide on How To Root Any Android Device and it works on almost every android device out there.
Before you proceed to Root your smartphone you must know the advantages and disadvantages of rooting.
Advantages Of Rooting
Now while talking about the advantages, there are many good advantages of rooting.
You will be able to Remove Bloatware
Easily Remove Ads from your phone
Once you root you can Install Custom ROM
You have Full Control of your device
Rooting gives the advantage to Install Incompatible Apps
You can easily Unlock hidden features
And Lot More!
Disadvantages Of Rooting
You will not able to Claim Warranty
Flashing the wrong file can brick your phone
You will not receive updates over OTA
Once you root you can't Install Banking Apps
Is It Possible To Root Your Phone?
Now it's time to check if it's even possible to root your phone or not for that first we need to check if you can unlock your bootloader or not if you cannot unlock your bootloader then it's almost impossible to root your phone in most of the cases.
But in some of the rare cases, you will be able to root your phone even with a locked bootloader. For most of the phones, the manufacturer will provide you a way to unlock your phone's bootloader.
However, some manufacturers and carriers restrict unlocking the bootloader. Most of the Oneplus, Google, Samsung phones, and Xiaomi phones are known to be bootloader unlockable.
Below I have provided you the guide to unlocking the bootloader of several phones.
Samsung: Unlock Bootloader Of Any Samsung Device
Xiaomi: Unlock Bootloader Of Any Xiaomi Device
OnePlus: Unlock Bootloader Of Any OnePlus Device
Google: Unlock Bootloader Of Any Google Device
Now for other phones, you may ask for the tutorial and information in the comment down below!
For the phones that are not bootloader unlockable, we'll have a hard look when it comes to rooting but there might still be a chance for that you will need to Go To xda-developers.com And Search For Your Phone Name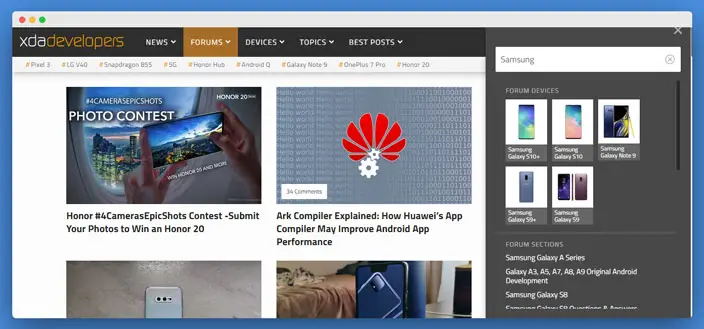 And your phone's forum section look if there is an available root method for your phone.
If you cannot find anything for your phone then it's almost impossible to root your phone.
Requirements
You Need To Unlock Bootloader Of Your Phone
The Second Thing You Need Is Custom Recovery Installed On Your Device
Download USB Drivers For Your Phone
A Windows PC/Laptop
Unlocking a Bootloader allows us to flash a Custom Recovery and installing a Custom Recovery allows us to flash Magisk to Root our phone.
This is the basic process we need to follow for most of the phones except for the phones with a locked bootloader that cannot be unlocked.
NOTE :-
This process will erase all of the data on your phone including the Internal Storage. So, make sure that you backup all of your data before following this guide.
Related Article: How To Take Complete Backup Of Android
Once you completed the above requirements it's time to root your phone.
Steps To Root Any Android Device
1.) First Step Is To Install Magisk Manager Zip File And APK On Your Phone Internal Storage
2.) Now Power Off Your Phone And Boot Your Phone Into Recovery Mode
Now if you don't know how to boot your phone into recovery mode then check out this guide on How To Boot Any Android Device Into Recovery Mode
3.) Once You Are In Recovery Mode, Follow The Below Steps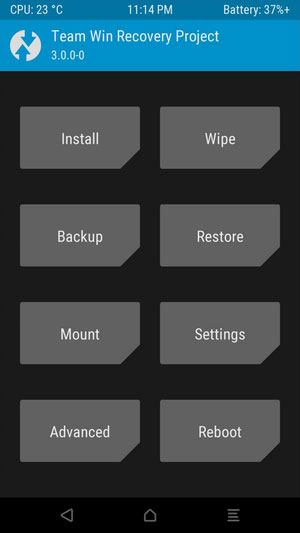 Now Locate The Magisk.zip File And Select It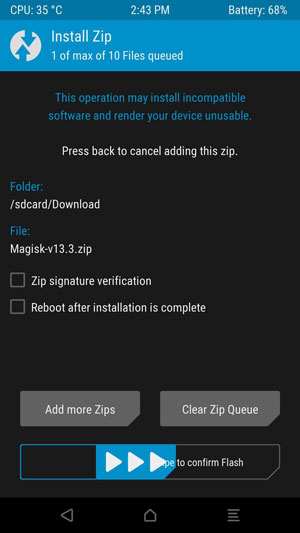 Then "Swipe To Confirm Flash"
4.) Now Once the Flashing Process Completes >> Tap On "Reboot System"
5.) That's It 🙂 You Have Successfully Rooted Your Phone
Now you should see the Magisk App Icon on your phone. But if you don't see one then you just need to Install the Magisk Mager App using the apk file that you have downloaded.
How To Check Phone Rooted Or Not
Now to check if the root is working you can download the Root Checker App from the play store and verify the root access.
Install the Root Checker App
Open The App
Tap On Verify Root
Now You Will See This Message Saying "Congratulations! This Device Has Root Access"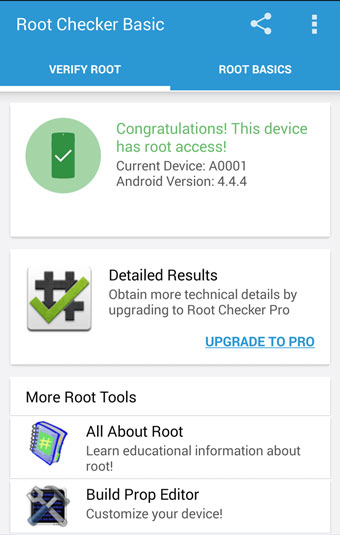 ---
Now if you are looking for the guide to root your smartphone without pc then you can follow up this guide on How To Root Any Android Without PC.
Conclusion:
So, in this tutorial, we have learned How To Root Any Android Device this is the complete rooting process. With the help of this guide, you can Root Any Android Device available out there!
If you find this guide useful then make sure to share this article. Also, if you want to ask any questions related to rooting then make sure to comment down below.