If you are using an Android device equipped with the Qualcomm Chipset and want to unbrick, flash or hard restore your device, you need the Qualcomm HS-USB QDLoader 9008 Driver in your computer. This driver is required for unbricking or flashing each Qualcomm Chipset device. The best thing about the driver is, you don't have to search for its compatibility with your device since the Qualcomm HS-USB QDLoader 9008 driver is compatible with every android Qualcomm chipset device.
Flashing your Qualcomm chipset device is not that difficult since you only have to download the Qualcomm HS-USB QDLoader on your computer and follow some easy steps listed in this article. This process may seem like a daunting process for those who haven't flashed their device before. But after going through this whole article carefully, you will learn to unbrick and hard reset your device comfortably.
Furthermore, we also have given complete knowledge about installing this driver as well as unbricking and flash your Qualcomm chipset device. So please read this whole article carefully for installing Qualcomm HS-USB QDLoader 9008 driver on your computer.
Why you would need these Drivers?
In simple words, the driver is a set of codes and files which help you to make communication between hardware and the operating system of the computer. For each equipment furnished with your device, you need a driver since without a compatible driver system can't handle or use the hardware completely.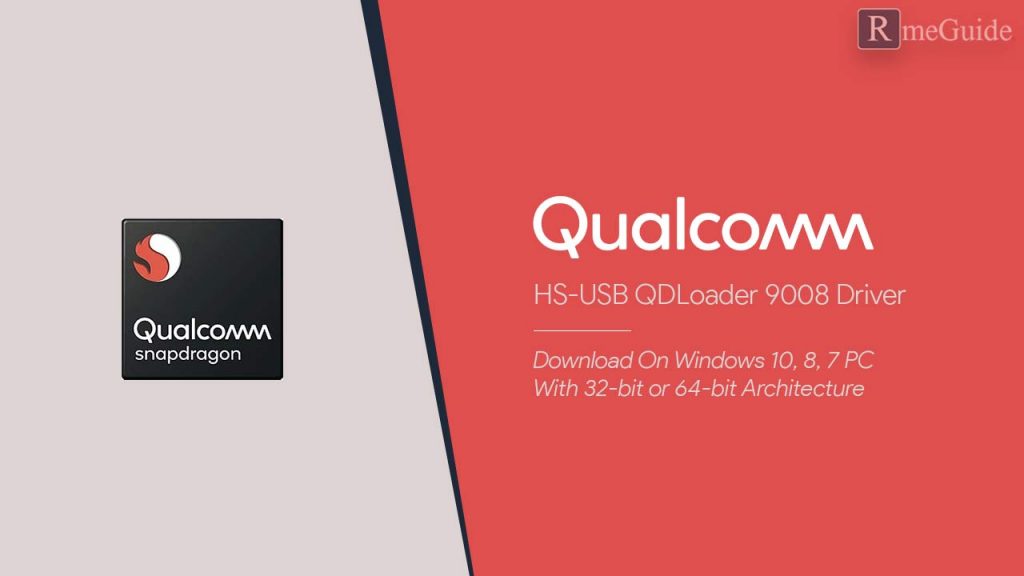 The same theory works for Qualcomm HS-USB QDLoader driver since if you have an android device equipped with Qualcomm chipset and you want to flash its UI or unbrick it, firstly, you need to connect your phone to the system. For making your system recognizing the Qualcomm device, you need this driver in your computer first since your device is hardware, and even for connecting external equipment, you need a driver first.
Even when you are flashing your device from some different methods, there will be high chances of your device getting bricked. So for unbricking it too, you need Qualcomm driver on your computer. If you don't know how to unbrick the phone, flash updating UI version must read this whole article to get knowledge about appropriate steps to be taken.
Download Qualcomm HS-USB QDLoader 9008 Drivers
You must need to download Qualcomm HS-USB QDLoader 9008 driver may be to root, flash or unbrick your device having Qualcomm chipset inside. Downloading process of Qualcomm driver is damn simple as even an 8th-grade guy can download it by going through this article. You only have to follow some simple steps below carefully, and you can download this driver-
Step 1 – Click on the download link given in the article, and you will automatically get redirected to the download page.
Step 2 – On downloading page, complete some steps for on-site human verification for unlocking the download button.
Step 3 – At last, click on the download button and choose the appropriate path or randomly it will be downloaded to the default download folder in C drive.
Supported Windows OS
Drivers are developed for each modern windows Operating systems usage, but the thing is, you need a compatible driver as per your system configuration. If we talk about the supported windows operating systems, this driver is compatible with Windows 7, 8, 8.1, 10, 10 Pro with 32-bit and 64-bit architecture. You will get whole instructions for finding the compatible driver in this blog, so you must read it carefully.
Prerequisite
Before installing any driver, application or any software on your computer, you require few more requirements listed below –
1.) One of the most important things you need for flashing your device is a flash tool. So firstly, download the SDK tool for PC and install it before installing this driver.
2.) You need to download the driver compatible with your windows version and architecture from this article.
3.) USB cable as per slot type for connecting your device to the computer.
4.) In your android device, firstly, you need to enable USB debugging, and for doing that, you need to turn on developer mode on your phone. For turning it on –
Click on settings and search for About Phone block in which you will get the build number written there
Now Click on that Build Number for about 6 to 7 times for entering developer mode.
After that, you will get access to some in-built settings of the phone,
Go back to settings and locate Developer Options there in which you will get USB Debugging Mode and enable it.
5.) Installing drivers without license verification for some of the latest Windows operating systems such as Windows 8,8.1 and 10 is too difficult. For making this task easy, you have to turn on your PC on the Test Mode by following some simple steps mentioned below –
Open command prompt by writing cmd on the run software or directly by searching in the Windows search bar.
In the command prompt window, type
bcdedit /set testsigning on
and press the enter key.
Press Alt+F4 and Restart your computer
After restarting your computer, you will notice the test mode written on the beneath-right corner of the screen.
After following these steps carefully, install the Qualcomm HS-USB QDLoader 9008 driver there in the test mode. After completing the installation process, you can disable the test mode off again by entering the code
bcdedit /set testsigning off
On the command prompt and restart the system again.
How to Install Qualcomm HS-USB QDLoader 9008 Drivers?
Installing a driver in the system is damn simple, same for Qualcomm driver, there are two methods for installing it. Below there, you will get the complete knowledge on installing this driver from both procedures.
1. Auto Method –
This is the most comfortable procedure for installing the Qualcomm driver, which will be over in a maximum of 6 to 10 steps. The steps for installing it by the direct method are listed below –
1. Firstly, download the driver from the above mentioned downloading steps.
2. Open the Download folder or the path folder where you've downloaded it and locate the Qualcomm HS-USB QDLoader 9008 Driver.zip file.
3. Right-click on the zip file and click on the extract here button for extracting the contents of the downloading file.
4. Open the extracted folder and locate on the .exe setup file, then run it as administrator. The setup pop-up will suddenly appear on the computer screen.
5. Click on the Next block in the InstallShield Wizard, which will appear as a pop-up.
6. Click and accept the terms and conditions written there. If you want some advanced knowledge, then you must read or and click on the Next button.
7. Click on the Install button in the next pop-up. It will take a few seconds to install the driver.
8. After the installation procedure completes, click on the finish button to close the pop-up.
The installation process completed successfully, and now you can unbrick your phone easily.
2. Manual Method –
In most of the operating systems, we perceive some obstacles in installing the drivers from the direct or auto method. So for guiding you out of this trouble, there is one more method termed as Manual Method. It looks like a lengthy method, but in the back-end, it's a natural process. For completing the installation by manual procedure, you have to follow few simple steps listed below –
1. Download the Qualcomm driver through the steps given in this article.
2. Locate the downloaded file in your computer drive or where you've downloaded it.
3. Right-click on the downloaded zip file and then click on the extract here button.
Note – Please read the above-listed prerequisite section carefully before going through these steps since you must have to turn on USB-Debugging in your android device and test mode in your system before taking these steps. Otherwise, the steps mentioned here won't work.
4. Now, turn off your phone and reboot it in the hard reset mode or EDL(Emergency Download Mode) and connect it with the system by a USB cable.
5. Now go to the control panel and click on the device manager block.
6. You will get there every device and driver listed, which you've installed and equipped on your system. Search for other devices under which you will get QHSUSB_BULK.
7. Right-click on QHSUSB_BULK and click on the update driver block.
8.– Choose the Browse my computer for driver software option there and click on it.
9. Navigate it to the location where you've extracted the Qualcomm driver folder. Then click on the Next button.
10. After that, a pop-up prompt will appear on the screen to ask you to verify or take your consent on installing an unsigned driver. Click on Install this driver anyway.
11. The installation procedure will take a few minutes to complete. You will get a success message when the installation completes. Click on the close button.
12. Once you close that pop-up, you will get a new device listed in the other devices section termed as Qualcomm HS-USB QDLoader 9008. By using this driver section, now you can easily unbrick and flash update your phone with Qualcomm Chipset equipped in it.
How to Update Qualcomm HS-USB QDLoader 9008 Driver?
If your android device has been showing as QHSUSB_BULK under the Other devices section of the control panel, you will have to update your driver. This problem may arise if you don't have installed the Qualcomm HS-USB QDLoader correctly or because of any bug.
For updating the Qualcomm driver, you have to go through a few simple steps listed below –
1. Firstly, download the correct updated version of Qualcomm HS-USB QDLoader 9008 driver from this article
2. After that, right-click on the QHUSB_BULK block and then click on the update driver button.
3. Then Navigate it to the folder where you've extracted the downloaded zip file.
4. Click on the Next button, and installing will start successfully. It will take only up to 2 minutes.
After the installation gets completed, you will notice Qualcomm HS-USB QDLoader 9008 in place of QHSUSB_BULK, and you will also receive a success message pop-up.
That's it; now you can comfortably use the newly updated Qualcomm HS-USB QDLoader Driver and flash or unbrick your phone still if you have any query so you can type it in the comment section below and we will help you asap.
More Tools -
After going through this article entirely, you must have a look at this since if you have an MI phone, then you can't flash your device only by having a driver. You must need a flash tool. So click fastly on the below link and get the newly updated, 100% bug-free, and 100% genuine MI Flash Tool for flashing any of your Xiaomi Phone comfortably to the new update or stock version.
Conclusion
So here, we've completed our article based on Qualcomm HS-USB QDLoader 9008 Driver. It will provide you with the complete knowledge you need about this driver, as well as the steps of the method for installing and using this driver. Flashing, Unbricking, or any other same platform processes will become possible and even easier for you after using this app.
This app is 100 % bug-free, which means that it won't harm your device in any single way. The only precaution you've to take is to read all steps carefully before installing and using it. Enjoy the Qualcomm HS-USB QDLoader 9008 driver.