Xiaomi has finally released the new MIUI 11 ROM For Popular Xiaomi Phones. MIUI 11 is the successor of MIUI 10 and no doubt MIUI 11 will be way much faster in every expect. When Xiaomi launched the MIUI 10 ROM there tag line was "faster than lightning" which promised to offer better performance.
Now the next version of MIUI 11 has been launched with a tag line of "A New And Unique OS". Xiaomi has done a lot of upgrades on MIUI 11 so this will be the best and high-performance ROM in the Xiaomi history.
MIUI is one of the most used operating systems builds by Xiaomi. Unlike other smartphone brands that redevelop stock ROM into custom made ROM's. MIUI is one of them, they have optimized there ROM in such a way that makes multitasking very easy. Also, it is well known for the features that MIUI provides.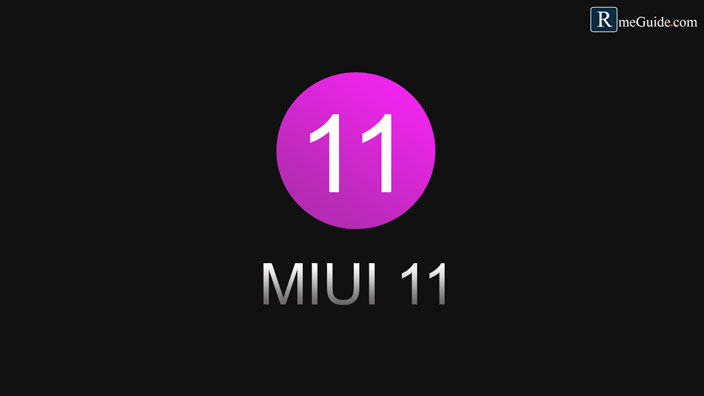 At Xiaomi's recent event the company unveiled the latest iteration of MIUI. Yes, I am talking about the new MIUI 11 update which revamps the UI and brings a lot of new features including features from Android P.
What's New In MIUI 11?
Gestures are new in things in the smartphone world so it's not surprising that Xiaomi has put gestures front and center in MIUI 11. The gestures were the same that were introduced with MIUI 10 but you are getting more gestures this time with MIUI 11.
You will also see improvement in speed of gestures while swiping left to right and for the recent screen.
On talking about the UI (User Interface) the MIUI 11 looks stunning.  MIUI 11 brings a number of changes on the UI prime firstly there's a new theme called rhodium which has new wallpaper and new icons. The notification shade and the quick settings page have been revamped and look very similar to their Android Q counterparts.
In the previous article, I have shown you the Top 5 Best Features Of MIUI 11. So, you can check out that article to get more information about MIUI 11.
MIUI 11 Top Features
MIUI 11 is going to have an enormous amount of features including System-Wide Dark Mode. You will see a reduction of ads in MIUI 11. You will also see the redesign of the icons for a long time MIUI icons have remained unchanged or have been slightly tweaked now that's all supposed to change.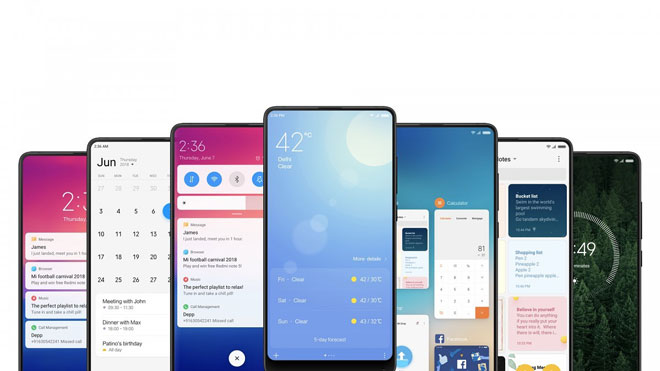 Icons are going to get more minimalistic and flatter and animations are also expected to get smoother. The next best feature is the ultra power-saving mode. Something similar to the ultra power saving mode it's a power-saving mode that turns the screen monochrome black and white it is just going to let you text and calls.
System-Wide Dark Mode
New Sound Effects & Better Dolby Sound Effects
Unlock: Fingerprint sensor and Face Unlock now simultaneously, waking up via voice command
Info Screen with charging status
Private albums for videos
Better energy-saving features
---
List Of Eligible Devices Getting MIUI Update (Confirmed List)
Here is the list of MIUI 11 supported devices. This is not the final list as more devices will be added in recent days. So, if your device is not in the list then don't worry it might be added if the ROM is compatible with your smartphone.
Below I have provided the Miui 11 Supported devices list. The following devices are confirmed to receive the MIUI 11 update:
[table id=1 /] [table id=2 /] [table id=3 /]
(Source)
List Of Redmi Devices Getting MIUI 11 Update
The following Redmi devices will get MIUI 11 update. So, if your device in on the list then you will get the new MIUI 11 update.
Redmi Note Series
[table id=4 /] [table id=5 /]
Now, these are the MIUI 11 supported devices list. Let's  Download MIUI 11 ROM on our Xiaomi phones.
---
Download Official MIUI 11 BETA
Recently In China MIUI 11, BETA ROM is now officially available for beta testing for the devices listed below. As you know the new ROM has got lots of features, design, and UI. Xiaomi has done an amazing job. However, if you want to Install MIUI 11 On Any Xiaomi Device then you can just Download the ROM Zip file on your phone and flash it using Orange Fox Custom Recovery.
Installation Guide:
MIUI 11 Rom Download For Redmi Devices
As you might be knowing that MIUI 11 is currently under the development process. However, MIUI 11 BETA has been released by the developers. If you want to get the taste of the latest MIUI 11 then you can enroll for the BETA Testing. Once you enrolled for MIUI 11 Beta Testing you will get OTA Update.
However, if you don't get the beta update via OTA then you can simply follow the below guide where I have shown you How to apply for MIUI 11 beta ROM?
MIUI 11 BETA ROM Enrollment Program
Now before releasing the ROM publicly, the ROM is always released first for Beta Testing to check the stability of ROM, Bugs, Improvement. Once the beta phase completes successfully then only the stable ROM is released then for all devices.
Once you enrolled for MIUI 11 beta testing you will get regular updates with some changes and bug fixed. So, if you are interested to test out the official beta ROM of MIUI 11 then follow the below steps:
You Will Need Mi-Account
Now Go To MIUI Official Forum Click Here
Select Your Device Model
You Will Get Option To Download MIUI 11 BETA ROM
That's It 🙂 You Will Receive The BETA Update Via OTA
How To Download Miui 11 For All Redmi Devices?
Now if you want to download the ROM manually then you can follow the steps shown below:
1.) Go To Xiaomi Official Website
2.) Now Search For Your Device Model In The Search Box At Top
3.) Once Done You Will See A Download Link Along With MIUI ROM Available For Your Device
4.) So, That's It 🙂 This The Way To Download Miui 11 For All Redmi Devices
---
How To Install MIUI 11 ROM On Any Xiaomi Devices
Now with the help of the below steps, you can easily install MIUI 11 ROM on any Xiaomi devices. But before stepping towards the steps make sure to complete the requirements.
Pre-Requirements
Your Phone Must Be Rooted
Make Sure To Check Your Device Is Eligible To Install MIUI 11 ROM From The Above List
Download MIUI 11 ROM With The Help Of Above Steps
Steps To Install MIUI 11 ROM On Any Xiaomi Devices
1.) Head over to Settings
2.) Go To About Phone >> System Update
3.) Now At The Right Top You Will Find Three Dots Click On That
4.) Tap On "Choose Update Package" 
5.) Now Locate The MIUI 11 ROM File & Select It
6.) Once Done Your Device Will Reboot And The Installation Process Will Start
7.) After That Again Your Device Will Reboot And This Time You Will Be Boot Into MIUI 11
8.) That's It 🙂 You Have Successfully Installed MIUI 11 On Your Xiaomi Device.
---
Related Article:
Conclusion:
So, this is all about How To Download MIUI 11 ROM. I have shared the List Of Xiaomi Devices Getting MIUI 11 Update, Install MIUI 11 ROM On Any Xiaomi Devices and also Best Features Of MIUI 11. If you find this article useful then make sure to share.
Also, if you have any questions regarding this article then make sure to write your questions on the comment section.